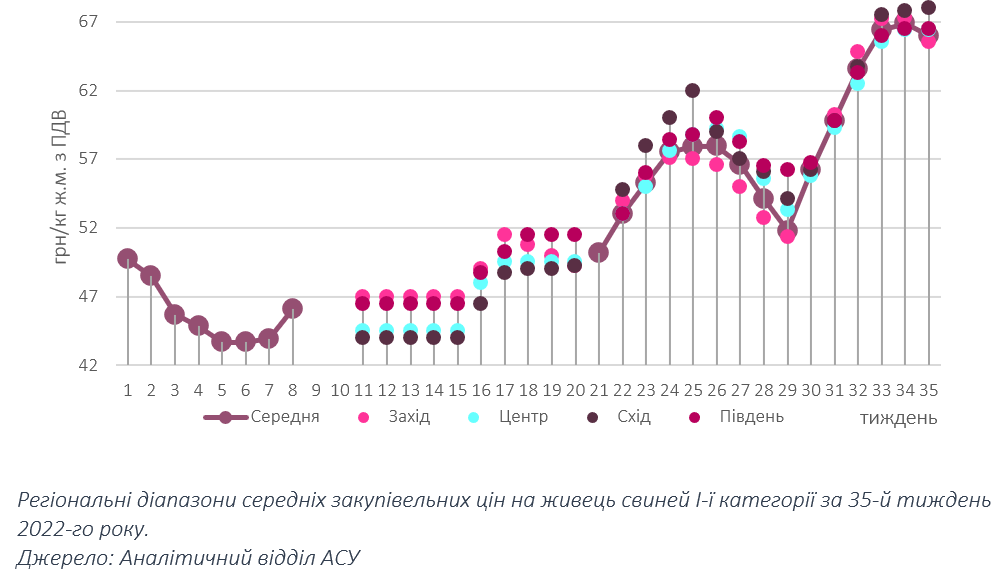 August ends with the constancy of purchasing prices for pigs of slaughter conditions in the Center and the East, state analysts of the Association Ukranian Pig Breeders according to the results of the weekly monitoring.
For the majority of pork producers, the bidding for the 35th week ended without a review of prices. As a week before, the main commodity lots in the Center, East and South were in the range of 66-68 UAH/kg. In the Western oblasts the bidding was a bit more tense, so the lower price threshold dropped to 65 UAH/kg.
Some representatives of the meat-processing industry note a gradual recovery in the average slaughter weight of animals. However, most processors, particularly in the Center and East, state that the impact of hot weather conditions on the marketable condition of animals is still felt. Processors' feedback on the course of trade and further price dynamics is also mixed. In particular, there are those who note the sluggishness of sales. Others note relatively stable trade in recent weeks, so, given this and the continued influence of seasonal factors on the supply of pork in the next couple of weeks, they believe that the price will stabilize. So far, operators are unanimous only about increased domestic competition among processors, not only for cuttings, as a few weeks earlier, but also for the sale of chilled meat.
You can read the results of the weekly monitoring of purchase prices from processors in this column.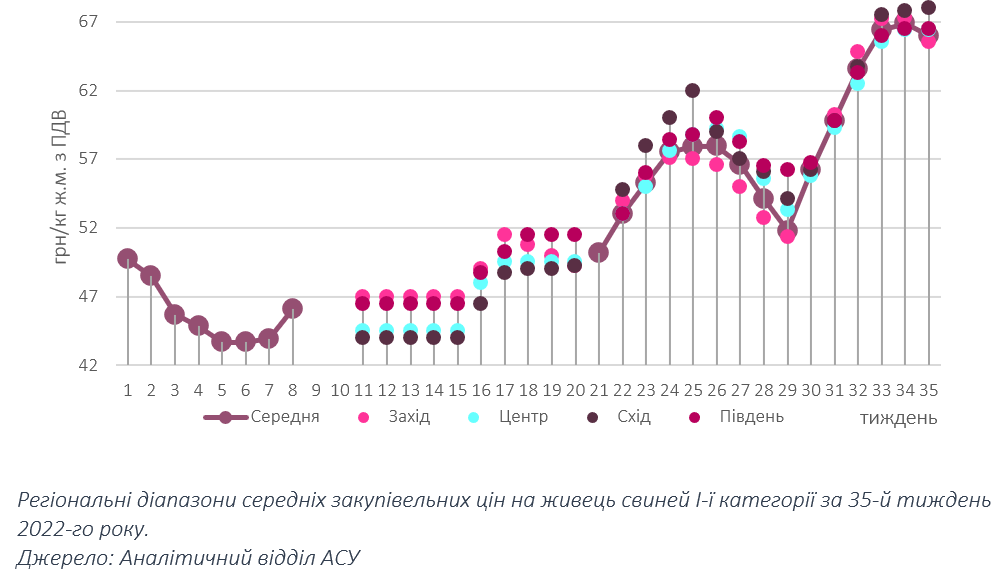 Regional ranges of average purchase prices for Category I live hogs for the 35th week of 2022.
Source: Analytical department of AUPB
---
The Association Ukranian Pig Breeders is a nonprofit, voluntary organization founded by domestic pork producers. The main objectives of the association are representation and protection of rights and interests of the association farms, assistance in the development and introduction of new technologies for the efficient production of pork, expansion of markets, protection of domestic sales market.