Porcine reproductive and respiratory syndrome (PRRS) is one of the most costly diseases of pigs in the world. It entails a decrease in the reproductive capacity of sows, respiratory disorders, high piglet mortality, as well as additional costs for treatment and maintenance of animals.
How to minimize these consequences and control this disease will be discussed by Dr. Justin Brown, Veterinary Medicine, Iowa State University, on September 27, during the last module of the veterinary school, which the Pig Association of Ukraine implements with the support of the US Department of Agriculture (USDA). The speaker will also share the best practices of disinfection on pig farms.
Tomas Trela, Doctor of Veterinary Medicine, member of the American Association of Veterinarians, will talk about the practical approach to controlling PRRS on farms.
In his turn, Dmytro Masyuk, Doctor of Veterinary Sciences, will share the peculiarities of laboratory diagnostics of PRRS and its prevalence in Ukraine.
Program and registration: docs.google.com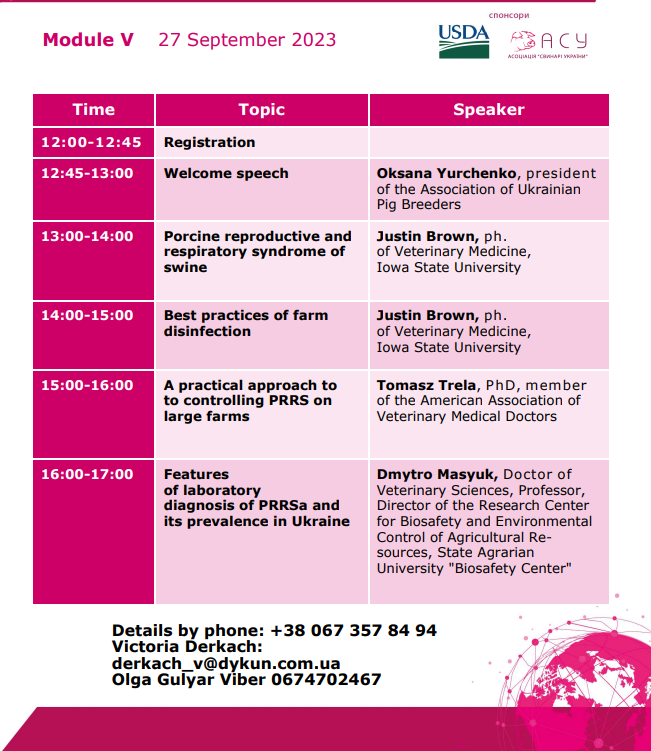 ---
The training of veterinary medicine specialists of pig farms is carried out within the framework of the project "Ensuring Animal Health in Ukraine", which is implemented by the Association of Ukrainian Pig Breeders together with the U.S. Department of Agriculture (USDA). The program of the veterinary school consists of five modules, each of which contains four presentations on related topics. Teaching materials are prepared by leading domestic and foreign experts. Participants who pass the full course of training will receive certificates.
---
The Association of Ukrainian Pig Breeders is a non-profit, voluntary organization founded by Ukrainian pork producers. The main purposes of the association are representation and protection of rights and interests of farms of the association, assistance in development and introduction of new technologies for efficient production of pork, expansion of sales markets, and protection of domestic sales market.